Over 40 participants
30,000 km
6 countries
The expedition finished in the Muzeon Park of Arts at the annual Korean Culture Festival Chuseok 2019 where a news conference on the results of the run was also given. The international automobile expedition "Call of the Ancestors" was supported by the Moscow City Tourism Committee and ANO Moscow Project Office for Tourism and Hospitality Development.
The expedition traveled 30,000 km and visited six countries. Among its more than 40 participants were executives of the Assembly of peoples of Russia and the Assembly of peoples of Eurasia, executives of Korean non-governmental organizations, foreign photographers, and travelers from Germany and Italy. bloggers and journalists were joining the expedition at its different stages.
The car fleet consisted of 10 vehicles: nine of them started from Moscow and the last one joined the rest in Tashkent. During the expedition, its members had taken the opportunity to see tourist attractions of many cities, including Elista, Nur Sultan, Ulaanbataar, Beijing, Harbin, and Seoul. They also visited Guri Amir mausoleum, Hazrat Sultan Mosque, the largest mosque in Central Asia, Gandantegchinlen Buddhists Monastery, Harbin Opera House, Seoul Museum of Art, and Lake Baikal.
The participants were stopping in hotels and camping in Astrakhan, the Altai Republic, Mongolia, and Irkutsk Oblast. The program of the automobile expeditions also included a travelling photography exhibition.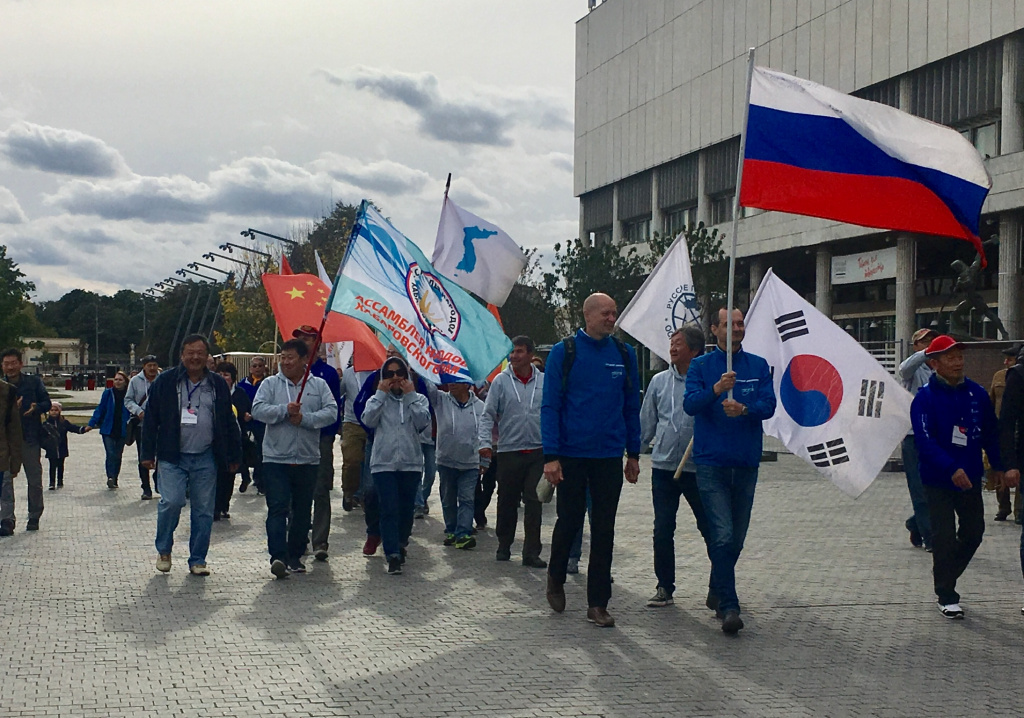 The automobile expedition started from Zaryadye Park in Moscow on July 9. Here, in Dome pavilion, a photography exhibition devoted to tourist sights of Korea and Russia was also run up to July 31. The exposition was attended by more than 65,000 visitors.